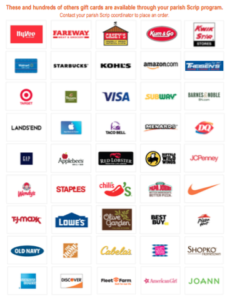 Does your workplace give out gift cards to employees? If so, your company can purchase Scrip cards through your parish's Scrip program. One local business recently purchased 30 cards from 11 different vendors for their employee Christmas party. Give your employees a treat while supporting your parish.
Click here for a sample of gift cards that are available. 
You'll find a complete list of national retailers at www.shopwithscrip.com/shop.
Don't forget, you can buy Scrip for many of our local retailers, too!
---
Fill in this form to receive more information from you parish Scrip coordinator: