415 Main Street  ~  P.O. Box 368  ~  Iowa Falls, Iowa 50126 ~  (641) 648-9547
---
Our Mission Statement: Catholic community dedicated to Jesus' call to make disciples.
Our Vision Statement: Making disciples through outreach ~ Welcoming all ~ Faith Formation ~ Worship
---
Wild Goose Video Discussion Series – Mondays at 6:30 PM at St. Mark. More information here.

Monthly Fellowship, Supper, & Movie nights on the first Wednesday of each month. Watch the bulletin for upcoming dates.
St. Mark Rummage Sale – July 6, 2019. Click here for donation information.
---
New Doors!
Thank you to all who donated toward the replacement doors for our religious education building. We have now fully funded this project! The first two sets of doors were replaced in March and April. As the weather warms up, we hope to have the last set – the main entrance on the east side of the religious education building – completed in early June.
Thank you for your continued stewardship to St. Mark Parish!
Check out the progress of the new doors for the RE building at St. Mark. 
---
This summer, we are offering fellowship gatherings. We will begin with a pot-luck dinner (please bring a dish to share) and will show a movie that is appropriate for parishioners of all ages. We hope you will be able to join us at least once. Our first movie will be on Wednesday, June 5 beginning at 5:30 PM. Any questions, contact Brenda Strayer.
---
Congratulations to the newly elected members of Pastoral Council and Faith Formation Commission: John Winkels for Pastoral Council; Michelle Bridgewater for Faith Formation.
---
Congratulations to the Community of Disciples Scholarship Winners!
Cluster Scholarships: Tanner Lawrence and Tyler Miller
Cluster KC Scholarships: Alex Geitz and Tanner Lawrence
---

Mary's Meals
Thank you to all that contributed to our Lenten Mary's Meals offering. With your generosity, we were able to donate over $2,000! This is in addition to proceeds from apparel sales and earlier donations. We raised enough to feed more than 125 students for an entire school year.
---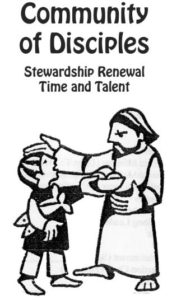 Please fill out the Time and Talent survey today! Paper copies are available at the back of the church, or you can complete it online here:  Time and Talent Survey
---
Parish Schedules
St. Mark Liturgical Ministers May-Aug 2019
Liturgical Minister Notes 04.17.19
St. Mark Ministry Schedule January – April 2019
Pastoral Council Meetings
COD Pastoral Council Minutes June18
Linkage Wide Pastoral Council Meeting Minutes 5 1 2018
Other Committee Meetings
CFFC Report – St. Mark 11-18
Cluster Faith Formation 08.13.18
Adult Faith Formation/RCIA Report August 2018
St. Mark Social Justice January 2018
Linkage Liturgy January 2018