611 Sherman Avenue  ~  P.O. Box 2  ~  Ackley, Iowa 50601  ~  (641) 847-2329
---
We, the Roman Catholic community of Saint Mary, are to be witnesses of God's plan of salvation. Through the teachings of Jesus Christ, with the guidance of the Holy Spirit, we strive to be stewards of our faith.
---
The 2019 St. Mary Time and Talent Survey will be available at Mass on June 2 and June 9. Please fill out a survey at Mass and leave it with an usher after Mass. It will also be attached to the June Newsletter.
---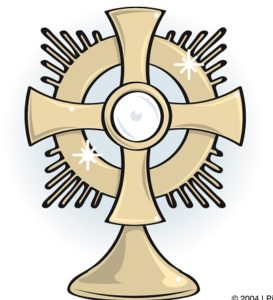 Eucharistic Procession
On June 23, we will celebrate the Feast of Corpus Christi – after 10:30 AM Mass. We will process to the city park with a Benediction service in the park. Following the service, we will share a meal together with maid rites. Drink and table service provided, please bring a side dish or dessert to share.
---
RELAY FOR LIFE – It is that time of year to raise money and awareness for the American Cancer Society through the Relay for Life. St. Mary's will again be having a team, Prayers For A Cure, and will be participating in the Hardin County Relay on Friday, June 7, at the Iowa Falls-Alden track in Iowa Falls from 5 PM until 10 PM If you would like to join the team, sign up online under the Relay For Life of Hardin County and click on Prayers for a Cure or contact Barb Keninger at (515) 681-4590. If you would like to make a donation, please put in the collection basket marked Relay for Life, give to Barb Keninger, or donate online under the Relay for Life of Hardin County and click on Prayers for a Cure. And please pray that a cure for cancer is found in our lifetime!
---
Congratulations to the newly elected members of Pastoral Council and Faith Formation Commission: Jeff Frazier and Jeff Kurth for Pastoral Council; Beth Gronewald and Julie Wojcik for Faith Formation.
---
---
Peace Pole
St. Mary's Peace Pole was donated in memory of Gaylord Lupkes by his wife Patti.
A Peace Pole is a hand-crafted monument that displays the message and prayer Holy Peace Prevail on Earth on each of its four sides, in different languages. There are tens of thousands of Peace Poles in 180 countries all over the world dedicated as monuments of peace. They serve as constant reminders for us to visualize and pray for world peace. The four languages on our Peace Pole are: English, Spanish, German, Aramaic (the language of Jesus).