614 Washington ~ Eldora, Iowa ~ 50627 ~ (641) 939-5545
---
Our Mission Statement: Catholic community dedicated to Jesus' call to make disciples.
Our Vision Statement: Making disciples through outreach ~ Welcoming all ~ Faith Formation ~ Worship
---

St. Mary, Eldora and St. Mark: log into www.facebook.com and send a friend request to "Mark Mary"
---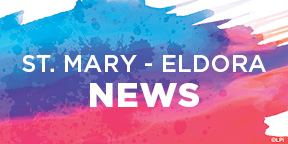 ---
---
Schedules
---
THANK YOU!
Last August, we asked St. Mary's for help in collecting school/craft supplies for a service project with Child Life Specialists at Mercy Hospital in Des Moines. The goal was to create 100 craft kits for children at Mercy Hospital. We planned to assemble the kits before Christmas or during Lent. Neither happened due to a full schedule. We are pleased to inform you that after Mass on Sunday, May 26, our faith formation families assembled the kits. The kits have all the needed materials and are ready to be opened and used by hospitalized children. Please pray for the children and families receiving our kits. Thank you for the donation of supplies! We even had extra crayons and markers that Mercy gladly accepted. Thank you for helping to assemble 100 kits!
~~Sister Connie & Rachel
With a grateful heart, I express my thanks to those who donated to the central air-conditioning project for the house that I reside in and call "home." I don't know who the specific donors are but know that I remember in prayer each and every St. Mary parishioner for your many kindnesses.
~~Sister Connie
---
Congratulations to the Community of Disciples Scholarship Winners!
Cluster Scholarships: Tanner Lawrence and Tyler Miller
Cluster KC Scholarships: Alex Geitz and Tanner Lawrence
---
Volunteer Custodians Needed

St. Mary is blessed with caring, active parishioners who answer the call when needs arise. A sign-up sheet for the Volunteer Custodial Program is available on the bulletin board in the north foyer. The program starts on Monday, May 27. Please prayerfully consider signing up and joining this effort.
---
Congratulations to the newly elected members of Pastoral Council and Faith Formation Commission: Dan Kadolph for Pastoral Council; Joan Schuller for Faith Formation.
---
Jared Cook Featured in The Witness
When Jared Cook's three young children found out their dad was joining the Catholic faith — the same faith that they and their mom already shared — Cook said they were "ecstatic."
Click here to read the whole story.
---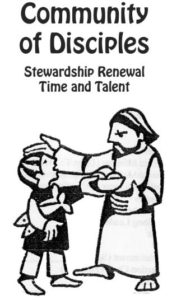 Please fill out the Time and Talent survey today! Paper copies are available at the back of the church, or you can complete it online here:  Time and Talent Survey
---
Lenten Midwife Project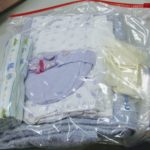 Every Lent since 2007, our Community of Disciples Cluster parishes (St. Mary Catholic Church, Eldora and St. Mark Catholic Church, Iowa Falls) have aided African midwives who are assisting new mothers in the villages of Tanzania. Read more about the project and how you can donate here: Lenten Midwife Project.
---