614 Washington ~ Eldora, Iowa ~ 50627 ~ (641) 939-5545
---
Our Mission Statement: Catholic community dedicated to Jesus' call to make disciples.
Our Vision Statement: Making disciples through outreach ~ Welcoming all ~ Faith Formation ~ Worship
---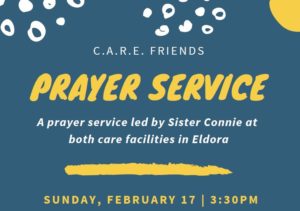 Please join the St. Mary's Faith Formation families on February 17 as they pray for and with their Catholic Area Residents Extended Friends (C.A.R.E. Friends) at Eldora Specialty Care and Valley View. Click here for details.
---
Mental Health Awareness with John Paul Derryberry
Sunday, March 3 at 3:00 PM
St. Mary Church, Eldora
---
Schedules
Jan-April 2019 Liturgical Ministers
Jan-April 2019 Offertory Counters
Music Ministers Jan-April 2019
Committee Minutes
Building and Grounds October 18, 2018
August 2018 St. Mary B&G Minutes
Cluster Faith Formation 08.13.18
Adult Faith Formation/RCIA Report August 2018
COD Pastoral Council Minutes June18
Linkage Wide Parish Council Meeting Minutes 5 1 2018
April 2018 St. Mary(Eldora) B&G Minutes
September 2017 St. Mary(E) B&G Minutes